Nils snuck this in over the weekend: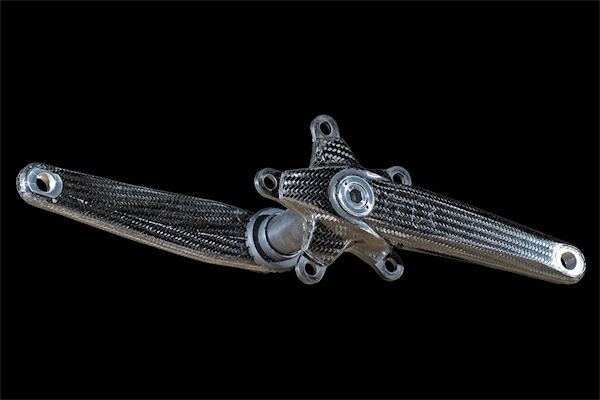 AX.MORPHEUS crankset
After the presentation of our crankset development project at last year's Interbike in Las Vegas/USA, we are now after a massive refinement and optimization period, as well as profound testing time in the lucky position to be putting the final design of our highly anticipated AX MORPHeus - Morpheus as in (to) morph - crankset in the limelight.
The development target has been to get a modular, as flexible as possible crankset on the newest technical level going, that sets new standards regards functionality as well as the system weight without loosing focus on the price.
The result is the lightest currently available crankset, that definitely is to be considered a heavyweight in the matter of stiffness and durability. The per piece (without spider) 80 grams light crank arms on the hightest technical status with Formula1 technology feature a torque and durability optimized layup - a guarantor of the high rider weight limit of 110 kg. A 30 mm thick, hollow and highly workload optimized aluminium spindle is paired with the carbon arms in order to keep the costs down without doing functional sacrifices.
Separate crank arms, spindle and attached parts offer the highest possible flexibility: the adaption of one's own crankset to different bottom bearing standards or bolt circle diameters (standard / compact) as well as also the customization in regards to the crank lengths or colour preference.
Technical specifications
System weightt: 375 grams, complete with (standard steel) bearings and bearing cups
Material: Carbon-Prepreg in autoclaving
Oversize 30 mm hollow aluminium spindle with proprietary multi-tooth profile:
the spindle easily withstands powers of 500 Nm as being put out by good sports cars
External bearings with a wide bearing stance of 85 mm (in BSA version) for maximum stiffness and durability
modular system for highest possible flexibility
Bolt circle diameters:
Compact Road BCD110
MTB Double BCD104x4 (in preparation)
Standard Road BCD130 (in planning)
Bottom bracket standards:
BSA 68 mm
BB30 (in preparation)
PressFit (in planning)
integrated extractor
Interchangeable aluminium pedal inserts, that are included in the scope of delivery, for a fast, uncomplicated length adaption:
lengths of 170, 172.5, 175 mm are freely and independantly adjustable between right and left side
all several parts are available separately:
- various spindles for different bottom bracket standards
- Exchangeable crank arms, for instance for standard / compact
- the attached alu parts (bottom bearing cups, crank bolt, extractor, pedal inserts) are available in different colours (and also as update)
embossed AX-logo integrated into the side of the crank arm
no exterior clamping integrated into the crank arms, but instead a positive connection with an ascending multi-tooth profile:
as a result as homogenous as possible stiffnesses between the left and right side
DIN tested
deflection of 1.5 mm at a pedal force of 1800 N / 1600 watts
Q-factor: 152 mm
low "U-factor" for a high knuckle and heel clearance
chainstay clearance: 125mm
rider weight limit: 110 kg
preorders are officially opened and follow the FiFo-principle:
please send your preorder to
nils.wiedemann@ax-lightness.de
Delivery starting from midst April 2010
Price: ca. 890.00 Eur
Subject to changes