When I first started racing bikes in the mid-90's the dream bike was a Merlin. By 1996 I was on an early 90's Merlin road bike that I purchased new directly from Greg LeMond's brother-in-law (the guy who shot him in that famous hunting accident). I loved that bike and I always wanted a Merlin MTB to go with it. I was feeling all nostalgic a couple of months ago and found one locally and jumped at the chance to get it. The problem is that I can't afford to build her up the way that I want, so this won't be finished until next year or possibly later.
Then a few weeks later he told me that he was going to sell the wheels that he had with the bike, so I bought those too. Chris King hubs and Mavic rims - I forget the model, but they aren't the light ones. Hubs are a really cool light purple that looks really good next to the ti frame. Wheels are for disc brakes, but he used this thing that converted the frame from canti brakes to disc brakes. I forget what it's called though.
Here she is next to Victoria.
FWB had some things on eBay a while back, so I picked up these Ashima lightweight disc brakes and also a set from Recon that has a ti cassette and grip shifters. I loved grip-shift when I used to ride a MTB back in the day, so I am sticking with that for shifters.
I have some Ashima rotors that I got from FWB too, but that's all I have so far. I will be going with SRAM shifters since they go with the shifters I have. Cranks? Not sure, but I would really like to get a SRM since I can't bear the thought of not having data from a ride, but that doesn't really go with the idea of trying to make this build as light as possible. Then again, Niki Gudex (who this bike is being named after) rode for SRM, so maybe it's a requirement. I will see if a set of MTB SRM cranks end up on eBay cheap in the next year. For bars and stem I have no idea. I will absolutely be using Ergon grips - I just don't have them yet. RTW - which ones should I get? I think that just leaves the fork - it seems like every year the forks get lighter and better and being that I get damn near everything used (it's the only way I can afford the stuff that I want) this will probably be the absolute last thing that I get. Not sure what to get though. Rock Shox or Fox?
Anyways, it should be a fun ride once she is done!
And here is a pic of me with Niki Gudex at Interbike a few years back. Shitty photo, but it's better than nothing.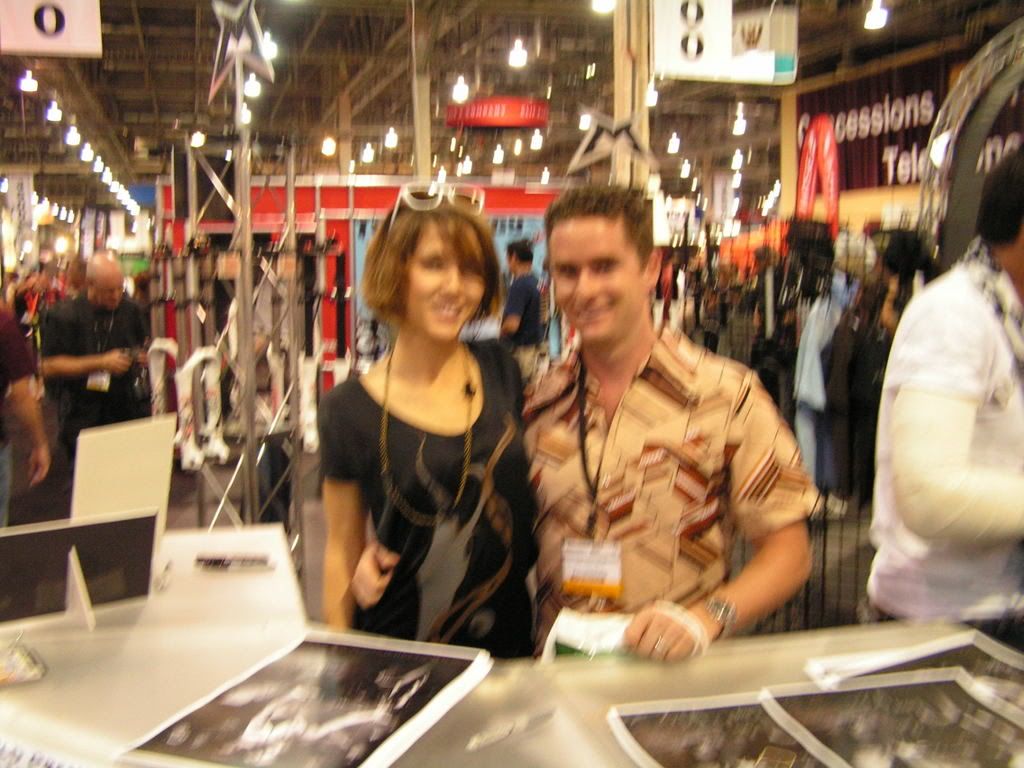 Here's a couple of better pics from her website: