It took some googling.. but yes there are at least a couple top-10 riders in the past generation who have
no
doping scandals to speak of.
A big congratulations to Cadel Evans and Carlos 'the Disaster' Sastre!! Time to give them all the yellow and pink jerseys, the trophies and podium kisses now. Quick.. before we hear anything bad.
The best of his generation (without an asterisk)?:
Sastre began racing in 1997 and has been involved with team managers with questionable doping histories.

In 2000, he made his professional debut with the Once team, which was managed by Manolo Saiz. Saiz was one of five people arrested in 2006 as part of the Operation Puerto doping scandal, and is no longer involved in the sport.

Now, Sastre rides for CSC's Danish owner Bjarne Riis. Riis stayed home from the 2007 Tour after admitting he used EPO from 1993-98, a span that included his 1996 Tour title.

Aware of the doping cloud over cycling, Sastre put it bluntly after his victory appeared certain Saturday.

"I'm clean," he said.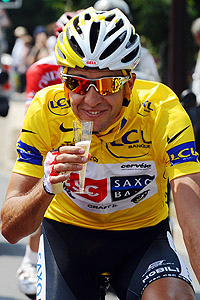 Clean, or at least clean enough.. here are some more victories if you want them.